We are only spending a few days in Almeria, March 9th – 12th, 2018. 
Arrived by bus on March 9th at 2pm. Found our way to the Airbnb by taxi. We stayed in the older district. We have been to Almeria before… back in 2007 (if I am remembering correctly). And we did enjoy the one day/night that we stayed. So, I was looking forward to the visit! 
Here are some photos from our visit… including the Alcazaba (free and excellent to go through), The Dona Pakyta Museo De Arte (free and excellent) as well as the Historical Museum  (again free and excellent)!! Overall I highly recommend visiting Almeria. Great history and an excellent value.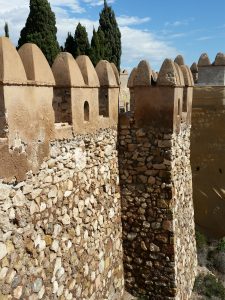 Almeria Quick facts
Almería is a city in southeast Spain. The Alcazaba is an imposing Moorish fortress overlooking the city. The fortified, 16th-century Almería Cathedral has a Gothic ribbed ceiling. The Museum of Almería displays archaeological finds from across the region. Underground lies a network of tunnels, the Civil War Shelters of Almería. The English Cable is a huge iron pier and symbol of the city's former mining industry.