Written by JoAnna Pettit-Almasude
Published Feb 15, 2018
Spending a month in Italy (between Venice, Florence and Rome) in February of 2018 was almost like visiting China. I had a similar experience back in 1986, spending 2 months in London, England… I felt like I had entered India. That was a bit more shocking since I was young and had not traveled internationally at all. I expected to be surrounded by "stereotypical" British people as I walked down the streets of London, but that was far from my experience. I am sure many have had this type of experience in traveling (or even in their own city).
Back to Italy… as my husband and I walked down the streets of Venice, Florence and Rome it was unusual to be in a crowd of Italians, especially in the main city streets and touristic areas, and not to mention the Museums! Most of these areas were crowded with Chinese people. In wondering about and discussing this phenomena, we assumed that the Chinese, as they have a growing economy and a growing middle class with expendable resources for travel, are tourists and have taken over the previous majority of USA/European travelers. The later have declining economies as well as a struggling middle classes.
However, I think the most interesting observation concerns souvenirs. Venice had some very interesting and actually decent quality souvenirs including decorative masks of all sizes and shapes and small glass objects that appeared to be hand made. They also have a lot of leather goods, shoes, hand bags and much more …. everything says "Made in Italy." As we were in Venice for 2 weeks, and walked nearly all of the islands we began to notice that all of the souvenirs, glass, leather, masks and other objects were exactly alike. Though the stores appeared to be owned by different people and some being permanent stores and some temporary street stores they were all selling the same items for nearly the same price. We would ask, are you sure this was made in Italy, the answer was always, "oh yes, everything is made here."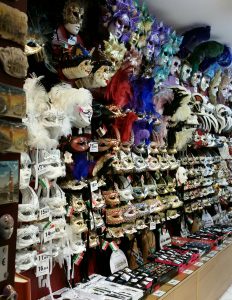 At one point I was looking at some little animal shaped leather bags, and saw that it had a "made in China" tag on it. When I pointed it out to the Chinese store clerk, they said, oh that one made in China – the others made in Italy." As she pointed to the "made in Italy" tags on the other bags.
Oh, now we are really suspicious. After going to Florence and talking with some Italians, we found out that there is a city in Italy that is practically all Chinese called Prato. Nearly every Italian we talked to mentioned Prato. The Chinese started migrating there in the 70s. Now it is a place that does a lot of manufacturing.
The Chinese takeover of Italy is a multifaceted situation. First, and foremost, yes, there is a major rise in Chinese tourism from China. Second, there is a growing Chinese population in Italy, that appears to be responsible for the mass production of "Made in Italy" products (perhaps attaching "made in Italy tags" to chinese made products? If they are actually making the products in Italy, is a Chinese mass production line in Italy still technically "Made in Italy?" Technically, yes, but it ruins the idea that you are supporting local artisans who are carrying on a long cultural tradition. So, maybe a new label is needed? "Made in Chitlay."
A concern brought up by several Italians that we interviewed; the Chinese are migrating to Italy in mass, but that they are not integrating into Italian culture and with the Italian people. They keep to themselves and are secluded, that point is understandably troubling. But finally, a bit of good news from the opinion of every Italian interviewed, Chinese people do not appear to engage in criminal activities. They are perceived as good productive citizens… at this point. Well done!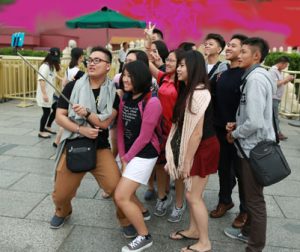 More Information from the web:
Wikipedia: The city of Prato has the second largest Chinese immigrant population in Italy (after Milan with Italy's largest Chinatown). Legal Chinese residents in Prato on 31 December 2008 were 9,927. Local authorities estimate the number of Chinese citizens living in Prato to be around 45,000, illegal immigrants included.

Read more:
Chinese Remake the 'Made in Italy' Fashion Label
Chinese migration brings social change to Italy's Alps
Italy has a worse quality of life than China: survey